"AS A JEWELLER, I CONSTANTLY LOOK FOR NEW INSPIRATION."
"MY DESIGN IS UNIQUE, AUTHENTIC AND CHARACTERIZED BY CLEAN AND GRAPHIC LINES."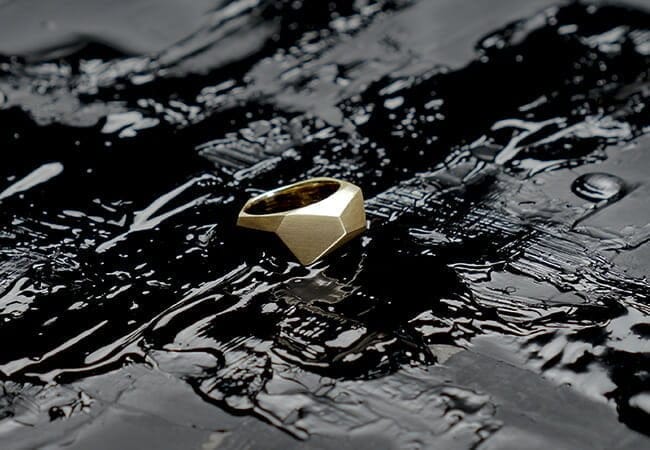 sTInne Holm – GOLDSMITH AND DESIGNER 
Welcome to my small workshop and jewelry universe! I'm Stinne Holm and since 2011 I have designed and produced handcrafted jewelry in my workshop in Stefansgade, Nørrebro in Copenhagen.
I believe in good materials and making everything from scratch. All the pieces you find in my shop are therefore 100% Danish produced in the best quality.
Passion for JEWELRY AND DESIGN 
I have found my niche within unique jewelry design. This is characterized by simplicity and beautiful sharp edges. I am often told that my designs are easily recognizable which is a huge compliment for me. This means I have found something that stands out and not something you will find elsewhere.
I love simple modes of expression made of pure materials. I work with edges, facets, geometrical shapes, twists and I'm highly graphically inspired.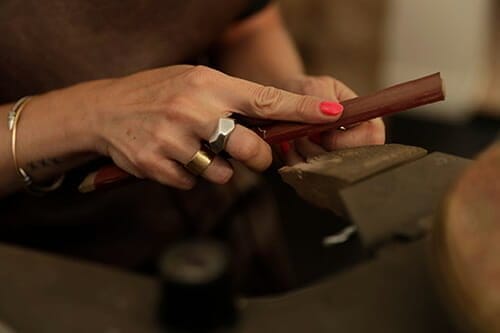 HANDCRAFTED JEWELRY 
My collection of jewelry and designs are constantly evolving. I feel at home when creating new styles and being innovative. I am highly inspired by my surroundings and constantly see opportunities for how I can re-create my designs. This also means that I evaluate my existing styles on an ongoing basis, keeping the selection up to date and new. I have always believed in not making mass production why you will not see my styles in huge quanities.  
But please contact me if you have seen a piece that is no longer a part of my collection. I would love to create it for you.
UNIQUE JEWELRY AND WEDDING RINGS
Looking for a unique present for yourself or others? Or are you looking for Engagement or Wedding Rings?
I create custom made pieces for a special someone or the special day.  
The process of custom made jewelry is very much based on conversations (including sketching, different samples, wax models) between you and me. This is the best way to figure out exactly the design you have in mind.
You are always welcome to contact me if you are interested in setting up a meeting or have a talk about the possibilities.
It is also possible to create pieces of your own gold – imagine the sentimental value of wearing your new ring with the gold from your grandmother's old gold ring in it.
WORKPLACE AND SHOP IN NØRREBRO 
Since 2010 I have had both workplace and shop in the vibrant and charming street of Stefansgade in Nørrebro, Copenhagen.  

You are always welcome to stop by and have a look at my jewelry and experience first hand how a piece is made.