Since 2004
I was trained as a goldsmith with a medal in 2004 and have had my own shop and studio in Nørrebro, Copenhagen since 2010.
As a jeweller, I constantly look for new inspiration. My design is unique and authentic, characterized by clean, graphic lines and focusing on top quality materials.
Rings, earrings, bracelets, necklaces and larger unique showpieces are designed at my trained hand.
STINNE HOLM
Goldsmith 
Rough and romantic
I always look for the personal expression in my jewelry and have delicately designed the visual expression that is sincerely mine – and I have held on to it throughout my design development.
With a combination of my own personal taste, sense of design, good craftsmanship and artistic ability, I have tried to create my own special visual expression in a jewelry collection that holds great authenticity and timelessness.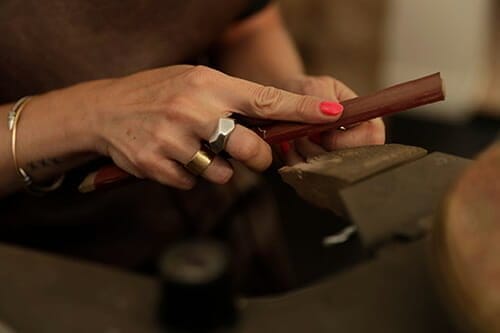 From a piece of gold to jewellery
I enjoy challenging what a piece of jewelry is capable of and I love to create grand and sculptural showpieces for artists. This sense of both disruption and elegance is inherent in every single piece.
I hope that my world of jewelry and designs will set the stage for you to create your own personal and unique expression by mixing and matching the different styles in my collections. A dream of creating jewelry that is both delicate, exclusive, and feminine has come together in a harmonic whole in my artistic universe.